SOIN D'OR BY SELVERT THERMAL: THE MOST BRIGHT AND SUBLIME BEAUTY
Pure gold has become one of the most recognized and sophisticated beauty trends today. Selvert Thermal has been inspired by this precious metal to invite you to feel the luxury and exclusivity in your skin through its most exclusive line: SOIN D'OR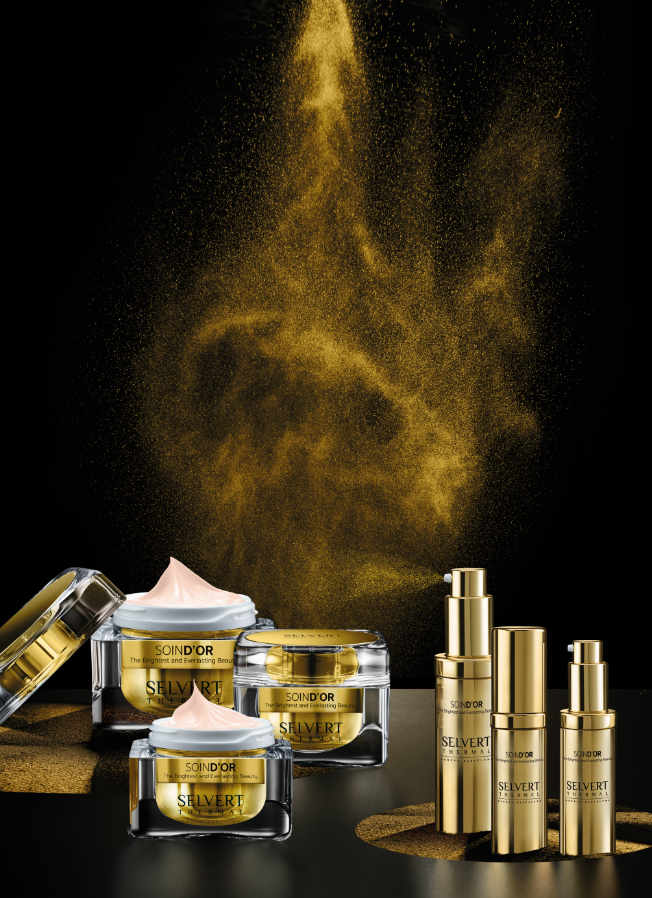 Pure gold has become one of the most recognized and sophisticated beauty trends today. Selvert Thermal has been inspired by this precious metal to invite you to feel the luxury and exclusivity in your skin through its most exclusive line: SOIN D'OR
Thanks to a powerful and sophisticated anti-aging technology, which acts directly on the signs of aging, the skin recovers the firmness and density lost over time and is reborn luminous and full of vitality.
PURE GOLDEN CREAM 24K: feel the luxury in your skin thanks to this sophisticated anti-aging treatment cream formulated with exquisite active ingredients such as pure 24k gold and diamond peptides. The skin of the face is reborn to show its full potential.
PURE GOLDEN SERUM 24K: sumptuous concentrate with global anti-aging effects formulated with pure 24k gold. A real gem for the skin, providing an unparalleled dose of radiance and regeneration.
PURE GOLDEN CREAM 18K: luxurious anti-aging cream whose active ingredients such as 18k gold allow for intensive skin repair, which is luminous and widely revitalized. Younger.
PURE GOLDEN SÉRUM 18K: serum that incorporates innovative anti-aging technology with 18k gold. Drop by drop, skin is smooth, even and luminous.
PURE GOLDEN MASK 18K: this gel mask provides an immediate flash effect and a great contribution of luminosity while acting on wrinkles and expression lines. The skin is smooth and silky.
PURE GOLDEN OIL 18K: nourishes and moisturizes the skin of the face with this exquisite oil without leaving an oily effect, providing a bath of unparalleled luminosity thanks to 18k gold among other luxurious ingredients.