What is maskne and how can we avoid it?
Other collateral damage as a consequence of Covid- 19 is the constant use of masks that cover half of our face and have caused different skin alterations in our skin: dehydration, dryness, dermatitis and a new concern called Maskne.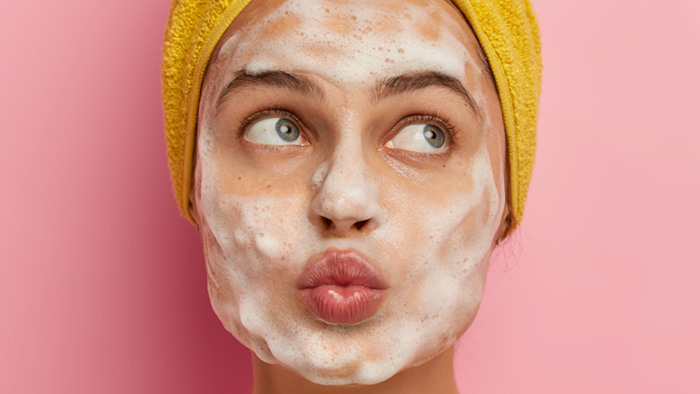 What is Maskne?
Maskne is a skin disorder that manifests itself as pimples, spots, blackheads and redness. It is not a seborrheic type of acne as we know it so far, but it is a mechanical type of acne that occurs essentially for two reasons:
On the one hand, the mask blocks the follicular openings and on the other hand, as a result of constant rubbing, micro tears are produced in the skin. Within this watertight space that the constant use of the mask implies, these micro tears are exposed to the contact of a humid and closed environment, due to the breathing, heat and sweat that allows the bacterial proliferation and microorganisms of waste.
Therefore, not only oily and mixed skins should prevent this type of acne, but also those dry, sensitive, and alipic skins that have never suffered from acne problems.
-We are going to give you some advice to deal with this problem
Let's start from the beginning, we will need a different type of mask depending on the problem of our skin.
For you, who have alipic and sensitive skin, it is recommended that you do not use synthetic masks and try to use masks with the most natural tissue possible.
Skin with rosacea, be careful with the pressure on areas of the cheekbone due to the tension of the gums and those who have acne, the skin should always be very clean, it is recommended not to make up and change the mask very often.
Your daily beauty routine
I will provide you with some cosmetic tips to avoid and reduce maskne outbreaks that will be very useful and effective.
Cleanliness is very important and essential in this type of skin alterations.
For this I recommend cleaning the skin daily, morning and night with a gel or mousse and then an appropriate tonic that will provide a deep cleansing and will balance the pH of the skin.
This is the case of the MOUSSE HYGIÉNISANTE with a refreshing effect that allows an optimal and deep hygiene even for those more sensitive skins. Next, apply with a absorbent cotton by means of soft touches of the TONIQUE RÉEQUILIBRANTE.
These two products, which belong to the VISAGE line of SELVERT THERMAL, will allow us to remove the remains of makeup, pollution and bacterial flora that has formed throughout the day, in our face by the use of the mask.
Another important factor is -hydration-, it is essential to apply a light cream or a non-greasy emulsion that acts as a protective barrier for the skin and prevents chafing.
For this I recommend our GLOW GEL LIGHT CREAM from the new AQUAFRESH moisturizing line by SELVERT THERMAL. It is a light textured cream that provides fresh, juicy and deep hydration, with a touch of luminosity, providing the skin with a protective layer against friction and erosion.
Don't forget to apply at night the NIGHT CREAM MASK from the same AQUAFRESH moisturizing line, a night facial macara that will not only provide unsurpassed hydration but will also repair those damages, redness and skin tension while you rest.
Last but not least, I advise you to incorporate into your routine a repairing and regenerating product ACTIF REGÉGÉNÉRATOS from the LIGNE DE RÉGÉNÉRATION ABSOLUE line, which will help us to accelerate the regeneration process by reducing scars, spots and skin irritations.
Remember, it is difficult for pimples to disappear in a few days, you must be patient and constant by following the cosmetic steps we have indicated and using the mask that best suits your skin type. This way you will get a soft, moisturized, uniform and protected skin.
Anna Guerrero · Departamento Formación ST