New Beauty + Pure Vitamin C Program from Selvert Thermal
Get a dream skin thanks to this facial treatment from the line + Pure Vitamin C from SELVERT THERMAL. Thanks to the richness in Vitamin C of the products that make up this facial program, the skin is protected against premature aging and once again looks radiant and full of vitality.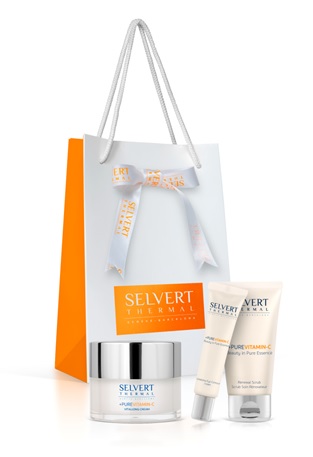 PVP: 49,90€ in Beauty Institutes & Spas
Products that make up this program:
Vitalizing Cream Vitaspheres C: anti-ageing cream with a pleasant texture indicated for devitalized skin that needs a continuous supply of Vitamin C, which will facilitate cell renewal and protection against free radicals. 50 ml.
Vitalizing Eye Contour Cream: to treat the delicate skin around the eyes, this cream is enriched with whole orange extract, fruit rich in essential oils, flavonoids and organic acids. Relaxation and freshness for a more beautiful and luminous look 15 ml.
Renewal Srub: non-aggressive facial scrub with a fresh texture that helps eliminate impurities from the skin. 50 ml.